← Go back
President Biden adds more EV charging across the United States with pledges from Uber, Walmart, PG&E, and others
April 18, 2023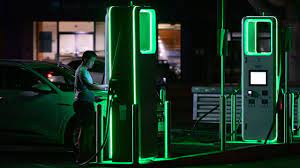 President Joe Biden's latest EV charging rollout will add more than 100,000 public EV chargers to the already 135,000 available nationwide. Biden aims to have half a million chargers across the nation by 2030.
The Biden administration said Monday that it has signed on a new round of public and private commitments to add EV charging options around the U.S., starting now and continuing for the next several years.
This commitment includes pledges from Uber, Zipcar, and other tech companies as well as the list of participants the White House first announced in February. At that time, the Biden administration said it had negotiated with Tesla to open thousands of its proprietary SuperCharger stations to broader use.