← Go back
Power up: Ravenbrook Farms Landfill Solar Facility teams with Cape Cod Healthcare
August 6, 2015
Kathryn Gallerani kgallerani@wickedlocal.com | September 5, 2014 | Carver Reporter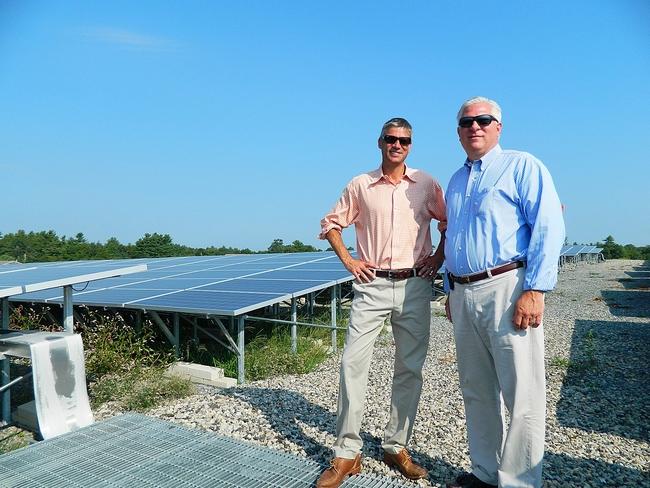 CARVER – The 6-megawatt solar array on the 16-acre private landfill site in North Carver faces toward the south in the general direction of Cape Cod Hospital.
Through a net metering agreement with Southern Sky Renewable Energy of Boston, Cape Cod Healthcare will save $200,000 to $250,000 in energy costs a year over the next 20 years.
Southern Sky principal owner Frank McMahon sees the relationship between the medical provider and his company, operator of the Ravenbrook Farms Landfill Solar Facility,
as a win-win.
"Cape Cod Healthcare sees a reduction in their overall cost that they have to pay out on their balance sheet, one of their expenses goes down considerably, so they see the benefit of that," he said.
"We are producing renewable energy from a closed landfill, not using a green field or not using property that could otherwise be used for a cranberry bog or something else, and we turn this asset, which was basically unused, into a renewable energy generation station, which has benefits for a hospital as well as the community at large."
Following an exhaustive review of different locations for solar and wind options with the goal of benefiting from the state's renewable energy opportunities, Cape Cod Healthcare decided to pursue a solar project off site.
Cape Cod Healthcare released a Request for Proposals in June 2011 to find a suitable off-site project, and the best proposal was from Southern Sky, EarlyBird president Shaun Pandit, an energy market expert based in Milton, said. His company facilitated the project for Cape Cod Healthcare.
Still able to go out and procure its own power, Cape Cod Healthcare gets a credit on its bill instead of tying the purchase price into buying the actual solar power, Pandit said. There's a buy-in from the point of view of a healthy hospital initiative.
Cape Cod Healthcare supports green energy, a key corporate objective, and can focus on patient care by controlling long-term energy costs.
"It's a pure benefit to Cape Cod, and it's a benefit turning a landfill into a renewable project," Pandit said. "Hospitals are realizing that they should be at the top of the game as far as being healthy generators instead of causing more environmental damage."
McMahon
said working with a financially stable company like Cape Cod Healthcare with a strong reputation in the community was an attractive option for Southern Sky when deciding to respond to the RFP.
Southern Sky specializes in developing solar projects on closed landfills. While researching different opportunities, the company learned of the North Carver landfill site privately owned by a man who lives in North Carolina.
"We found this particular property, we talked to the owner, and the owner was very interested in a lease arrangement," McMahon said. "We went to the town, and we found the town to be very favorable in terms of solar development and the Planning Board process."
The Ravenbrook Farms Landfill Solar Facility is the l argest private landfill solar facility in Massachusetts and one of the largest in the Northeast, according to McMahon and Pandit. There are more than 21,000 solar panels on site.
McMahon said Ravenbrook is the model for Southern Sky, and the company will replicate that model working with the town to build a maximum 2-megawatt facility on the town's capped landfill on North Main Street in North Carver. The net metering credits generated by that facility will be sold off to Cape Cod Healthcare as well.
EarlyBird Power similarly sees such a relationship model as the best approach to solar landfill development because there's no financial or site risk, Pandit said. One alternative like a power purchase agreement where an entity is buying the power can prove to be more costly over time.
"The developer gets it up and running, and it's no risk to Cape Cod while literally getting a credit on their bill," he said.
Southern Sky operates and maintains Ravenbrook with monitoring systems in place. McMahon and Pandit can monitor the site electronically on their cell phone, and a caretaker lives close by. Southern Sky also operates a 5.8-megawatt solar facility on a landfill in Canton. Those net metering credits are sold to Canton.
McMahon said Southern Sky, EarlyBird Power, Cape Cod Healthcare, the town of Carver and NStar worked well together on this project that has contributed upgrades to NStar's distribution system.
"We're very pleased," McMahon said. "This project is outperforming our original estimates in terms of production. We have just been thrilled with the way this project has gone forward. We have a great working relationship with the town, a great working relationship with NStar and Cape Cod."
Follow Kathryn Gallerani on Twitter, @kgallreporter.
Also mentioned in the Weymouth News, Somerville Journal, Salem Gazette, Belmont Citizen Herald
See the entire article here: http://carver.wickedlocal.com/article/20140905/NEWS/140908813/12581