← Go back
MA to Reach 1.6 GW Offshore Wind Capacity Requirement
November 5, 2019
Last week, the Baker administration and three utilities unanimously selected Mayflower Wind to provide 804 MW of clean offshore wind capacity to Massachusetts, which is enough capacity to power approximately half a million homes. With this selection, the state is poised to reach the 1.6 GW of offshore wind capacity required by a 2016 state law.
Mayflower Wind, a joint venture of Shell New Energies US LLC and EDPR Offshore North America LLC (EDPR), submitted four proposed projects for consideration. The other three proposals that were submitted included a smaller wind project, investment in the state's ports, and investment in a manufacturing facility to make wind towers. Ultimately, DOER and MA utilities Eversource, National Grid, and Unitil selected to move forward with Mayflower Wind's project named "Low Energy Cost" and begin contract negotiations. According to the state, the project will be 26 nautical miles south of Martha's Vineyard and 20 nautical miles south of Nantucket. In its bid document, Mayflower Wind emphasized the project's cost-effectiveness: it will be "the lowest price for offshore wind seen in the U.S." Moreover, in a statement, EDPR outlined the concrete economic benefits the project will provide:
Long-term prices below the original price cap of $84.23 per MWh
Reduction of electricity rates by $3.7 billion over the term of the contract
Creation of 10,680 jobs in MA (including offshore and onshore opportunities)
Elimination of 1.7 million metric tons CO2 emissions annually
The contract details have not yet been released, as negotiations are still ongoing. Contracts are expected to be submitted to the Department of Public Utilities (DPU) for approval by January 10, 2020, and the project is expected to start in December 2025. More details will be available to the public when the DPU begins to evaluate the project once the contract has been submitted.
Mayflower Wind will give MA the second half of the 1.6 GW offshore wind requirement. Vineyard Wind has already been selected to fulfil the first half of that requirement—it is currently in limbo as the U.S. Bureau of Ocean Energy Management studies the wider impacts of the offshore industry, but at the same time it is expected to come to fruition. State officials say that, if both Mayflower Wind and Vineyard Wind come to fruition as expected, they would provide approximately 12 percent of the state's annual energy demand.
Below is a depiction of both project areas. Mayflower Wind won development rights for the area shaded light green in 2018. Vineyard Wind's lease area is shaded in red: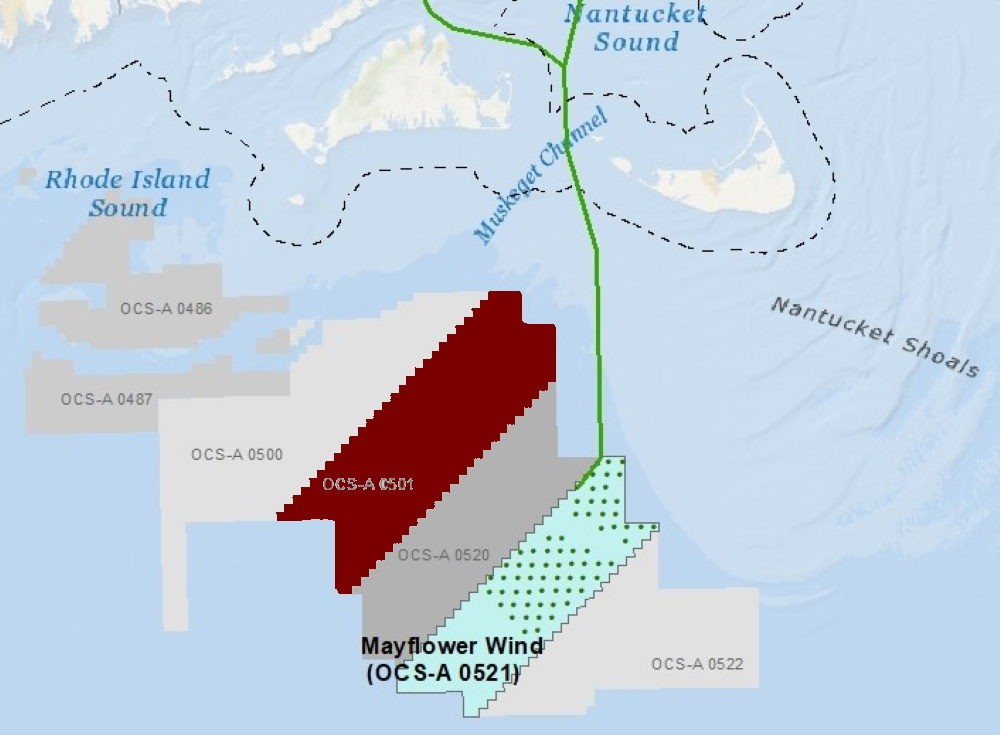 (Courtesy of Mayflower Wind)