← Go back
Hurricane Jose to Strike New England?
September 20, 2017
As Hurricane Jose makes its way up the east coast, the National Hurricane Center (NHC) has issued a tropical storm warning for parts of New England: from Watch Hill, Rhode Island, to Hull, Massachusetts, including Block Island, Martha's Vineyard, and Nantucket. A tropical storm watch has also been issued along the coast of Long Island from Fire Island to Port Jefferson and from New Haven, Connecticut to Watch Hill. This chart from the NHC depicts the projected timeline and wind gusts of the storm as of Monday night (11:00 P.M. EST):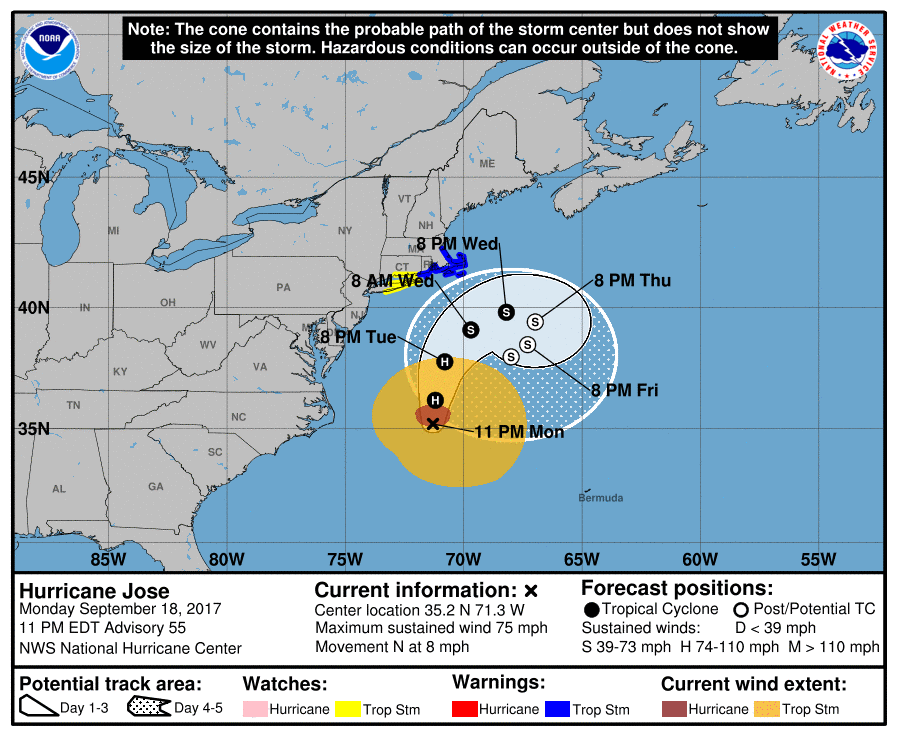 According to the NHC, storm conditions are expected to arrive at these parts of New England early Tuesday, and set to last until Thursday. Despite the fact that Jose will likely, for the most part, remain offshore, it is still expected to cause sustained winds of 40 mph or more with gusts up to 75 mph. These winds are expected to be accompanied by rainfall of up to 7 inches. In addition, Jose could still cause isolated flooding and dangerous ocean conditions along the coast and Mid-Atlantic. Even though Jose was characterized as a powerful, Category 4 storm one point, a move north from the Caribbean into the Atlantic weakened it to tropical storm status. Unfortunately, it has already been an unusually active hurricane season. Hopefully, Jose (and other potentially threatening storms) dissipate or are at least less menacing than projected.