← Go back
Charles River being used as new energy source for Boston
May 10, 2023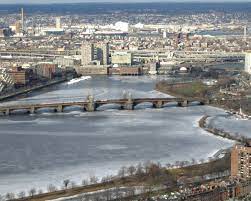 Vicinity Energy, the private equity-backed owner of Boston's and Cambridge's steam system, has signed an agreement with MAN Energy Solutions to build a low-temperature source heat pump system at Vicinity's plant near Cambridge's Kendall Square to make steam. The source of those low temperatures? Water from the Charles River.
Vicinity is already retrofitting its Kendall plant, which uses natural gas to fire its steam boilers and an electricity-generating turbine that also produces steam from its excess thermal energy. The company is replacing one of those gas-fired steam turbines with a boiler that will run off the electric grid, a $20 million project that will provide steam to customers who pay a premium for it to come from renewable electricity. Vicinity will procure that power from renewable sources such as wind and solar plants, and distribute the "green" steam to customers — starting with a lab complex near Fenway Park being constructed by developer IQHQ.
The deal with MAN, a German subsidiary of car maker Volkswagen, could allow Vicinity to offer another green alternative that can reach more buildings at a lower price. The goal is for the giant industrial-sized heat pump to generate 40 percent of Vicinity's steam for Boston and Cambridge; the company provides steam that can heat more than 70 million square feet of buildings (the equivalent of nearly 60 Prudential towers) in the two cities.