← Go back
MA Approves Compromise Renewable Energy Bill
August 1, 2018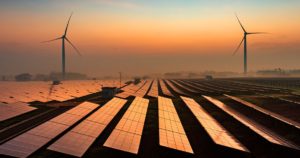 As expected, the Massachusetts House and Senate approved a clean energy bill on Tuesday that seeks to boost the state's reliance on renewable energy sources. The legislature (H 4857), which was unveiled on Monday, represents a compromise (it leaves most of the Senate provisions from a previous version of the bill behind) and a modest transition to clean, renewable energy. To the chagrin of some environmental advocates, the bill favored the House's less aggressive stance on renewable subsidiaries and failed to give additional incentives for solar energy development. The bill, however, did veto a reliability charge that Eversource Energy wanted to impose on solar customers and developed new mechanisms for encouraging clean peak energy.
The House and the Senate approved the legislature 151-1 and 36-0 respectively, so it comes as no surprise that many praised it as a step in the right direction toward a cleaner energy future. They used words like "balanced" and "measured" to describe the bill. Despite this praise, however, environmental advocates criticized the bill for being too weak. They suggested the legislature failed to take advantage of an opportunity for bold and comprehensive progress.
The bill focuses its attention on many areas, including battery storage, a clean peak standard, natural gas leaks, offshore wind, reliability charges, a renewable portfolio standard, and solar:
Battery storage: The bill increases the battery storage target from 200 megawatts to 1,000 megawatts by December 31, 2025 and provides other incentives for storage development, which is crucial to incorporate renewable forms of energy into the grid.
Clean peak standard: The clean peak standard attempts to integrate more clean energy source into the mix of power sources required to meet peak demand for electricity. The bill creates subsidiaries to support energy developers that can produce clean energy when it is most needed. The increase in storage should help with delivering renewable energy, but the bill also indicates mechanisms for reducing electricity demand at peak periods.
Natural gas leaks: Each year, natural gas utilities must "report…lost and unaccounted for gas" to determine how much gas is leaking in the system and where it is leaking.
Offshore wind: In May, the state selected two companies to erect an 800 megawatt-offshore wind project (named "Vineyard Wind") about 15 miles south of Martha's Vineyard. The new clean bill authorizes (but does not require) that the state move forward with another 1,600 megawatts by December 31, 2035.
Reliability charges: Eversource proposed, and the Department of Public Utilities subsequently accepted, charging customers a reliability charge. The charge is designed to ensure they were paying their share of the cost of operating the grid and would be based on the customer's peak energy usage. But customers do not know when their peak energy usage occurs and their peak usage may be different than the system's peak usage. The new bill allows for a reliability charge but is based on usage at peak demand periods.
Renewable portfolio standard: Currently, companies that sell electricity to customers in Massachusetts must buy certificates from renewable energy developers to prove that a mandated percentage (right now it is 13 percent) comes from renewables, which must grow by one percent per year. With the new bill, this growth must increase by two percent per year.
Solar: The solar industry in Massachusetts desperately needs help. For example, solar jobs in the state in 2017 saw a 3.8 percent decline, or about 9,800 fewer jobs, from 2016 levels. Solar advocates hoped the bill would do two things: first, lift the cap on how much solar can be installed in the state; second, they wanted an increase in the renewable portfolio standard of three percent per year (the Senate also wanted this). Unfortunately, they got neither.