← Go back
70 Natural Gas Fires in Lawrence, MA and Surrounding Area
September 14, 2018
One person is dead and several others are injured after natural gas fires and explosions shook Lawrence and the surrounding area Thursday afternoon. A gas line pressure problem in the area has affected Lawrence, North Andover, and Andover. Firefighters and other emergency crews have responded to at least 70 addresses for fires, explosions, or the investigation of gas odor: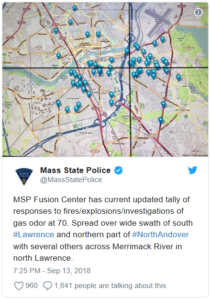 Initially, anyone who has natural gas service from Columbia Gas was told to evacuate their homes. Columbia Gas teams started going block-by-block to help evacuate the affected areas and to shut down power in Lawrence, North Andover, and Andover as a precaution. Later Lawrence Mayor Dan Rivera all residents of South Lawrence to evacuate their homes.
In Lawrence, a man was killed when a home exploded on Chickering Road. 18-year-old Leonel Rondon was inside a car in the driveway of the home when the explosion causes a chimney to fall on it. Rondon was pronounced dead at Mass General Hospital.
There were 38 fires in Andover alone. All those fires were extinguished by 6:45 P.M., but at one point, 18 fires burned simultaneously. At least three people have been injured in Andover, including a civilian and two firefighters. Lawrence General Hospital was treating 13 patients from the explosions, ranging from smoke inhalation to "traumatic blast injuries." Andover Fire Chief Michael Mansfield said this was the worst he had seen in his 39-year career. It is still not clear was caused the explosions. At this point, there is still a lot more work left to be done. Mansfield estimated it could be a week and a half before all the homes in Andover are cleared.
After the explosions, Columbia Gas issued the following statement:
Columbia Gas crews are currently responding to reports of multiple fires in Lawrence. Our thoughts are with everyone affected by today's incident.
The first priority for our crews at the scene is to ensure the safety of our customers and the community by supporting first responders and completing safety checks on our system and in the surrounding area.
We appreciate the response of local emergency responders and their coordination with our teams.
If a customer smells an odor of natural gas, they should leave the area immediately, move to a safe location and call 911 and our emergency number at 1-800-525-8222.
If a customer smells an odor of natural gas:
• Don't turn off gas to your house or to any appliances.
• Don't try to find the leak yourself or operate pipeline valves.
• Don't light a match or candle, or operate anything that could cause a spark, including home phones or cell phones, lights, appliances, flashlights, power tools, etc.
• Don't open the windows and doors in an attempt to ventilate.
We will continue to share information as it becomes available.